A single person needs approximately $100 per day to pay for accommodation, transportation, and food when traveling around Europe. You will need at least $3,000 to travel Europe for 2 weeks, including plane tickets, visits to museums, landmarks, and beaches.
Europe is a fusion of culture, history, upscale lifestyle, and marvelous beaches.
Wherever you decide to travel, the plan is relatively the same; food, sightseeing, and unique experiences.
The continent of Europe is vast, but you're probably planning to visit some of the most sought-after destinations like Spain, Italy, France, Germany, or Greece.
While the prices vary, there's one rule of thumb for each country; stay away from the touristy spots and mix in with the locals. You'll get an authentic experience and save!
If you thought a 2 week trip to Europe would cost you a lot, we're here to debunk the myth.
Best time to visit Europe
The summer months are when you'll find the crowds in Europe.
August is considered the vacation month; most companies take the month off and restart in September.
The high demand for accommodation and transport raises the prices during this time.
In 2019, hotels in Europe reported that they made 32% of their yearly revenue in July and August, while the remaining 68% is scattered through the other 10 months.
We'd suggest traveling in the spring and fall months to enjoy the sights and the nice weather at a lower cost.
The prices are even lower during the winter months, but European winters can be harsh, especially in the west.
US vs Europe prices
If you've never been to Europe, you probably wonder is Europe cheaper than the US?
Most goods and services are cheaper in Europe than in the US. However, take this fact with a grain of salt since there are 44 countries in Europe.
Portugal is among the cheapest yet touristy countries while France is the most expensive one. Switzerland comes close to France, followed by Norway and Iceland.
A meal for 2 in a mid-range restaurant will cost you $40 in Portugal but $120 in Switzerland!
Food prices are lower in most European countries, and alcohol is the cheapest in Eastern Europe.
Fruits, vegetables, meat, eggs, and milk are drastically cheaper than in the US due to government subsidies for farmers. The prices in Western Europe come closer to US prices.
Gas is more expensive in Europe, but public transportation is widely available and affordable.
Salaries in Europe
Salaries in Western Europe are higher, starting at 7 euros per hour up to 14.
In Eastern Europe, salaries start at 2 euros per hour; however, this corresponds to the prices in these countries.
If you decide to visit Montenegro, an Adriatic country full of historic old towns and marvelous beaches, you can expect to spend less than $50 per day!
The minimum wage in the US is $1,256, while the minimum wage in Europe ranges from $300 to $1,850.
Building a vacation budget
US households spend around 2% of their annual income on vacation.
Some go all out and spend more, while others rarely travel.
On average, a weeklong holiday within the US costs around $1,550 per person.
To make sure you're ready for the great expense that is 2 weeks in Europe, start building your budget.
Accommodation
Accommodation is your largest expense.
Rent in Europe is similar to the US, but there are many hotels, hostels, and Airbnbs with lower prices.
Booking in advance is your best option; even if you decide to visit in peak season, booking at least a few months in advance gives you the best deal.
You can expect to pay between $50 and $100 a night for a twin room in a moderate 3 or 4-star hotel.
Transport
The cheapest places to fly to from the US are London, Madrid, Rome, Barcelona, Oslo, and Lisbon.
It's significantly more affordable to fly out of Washington, New York, Miami, Chicago, and Boston airports.
A roundtrip flight from New York JFK to Barcelona El Prat airport ranges between $490 and $800.
Here are some tips when searching for flight tickets:
Browse incognito and delete your cookies; airline companies track your selection and increase the prices on your preferred ticket in an attempt to persuade you to purchase faster.

Skip weekends, spring break, and peak season. When looking at the flight prices, look at the whole month and pick the cheapest days. Mid-week is usually much cheaper.

Book flights through Europe with RyanAir, WizzAir, and EasyJet. Flights between 2 countries in Europe don't last longer than 2-3 hours. Even though these are low-cost companies and have their disadvantages, they're a good option for a short flight.
Food
Food and alcohol are generally cheaper in Europe, especially in Italy, Greece, Portugal, and Spain.
You can get dinner for 2 in a restaurant in Greece for under $55 and gyros-traditional fast food for less than $3.
You can even find farmer's markets in some of the large cities like Barcelona, where you can get a fruit salad or charcuterie box for under $4.
However, food is more expensive in France, Netherlands, Switzerland, and the Scandinavian countries.
Landmarks
Museums, galleries, and park entrance fees cost between 10 and 30 euros, or $11 and $33.
Some cities, like Rome, have 3 day passes at an affordable price, so you can visit many of the popular landmarks for cheaper and even skip the line!
Beware that to access some popular landmarks like La Sagrada Famiglia in Barcelona, you're required to purchase the ticket 3 months in advance.
Pricy tourist traps to avoid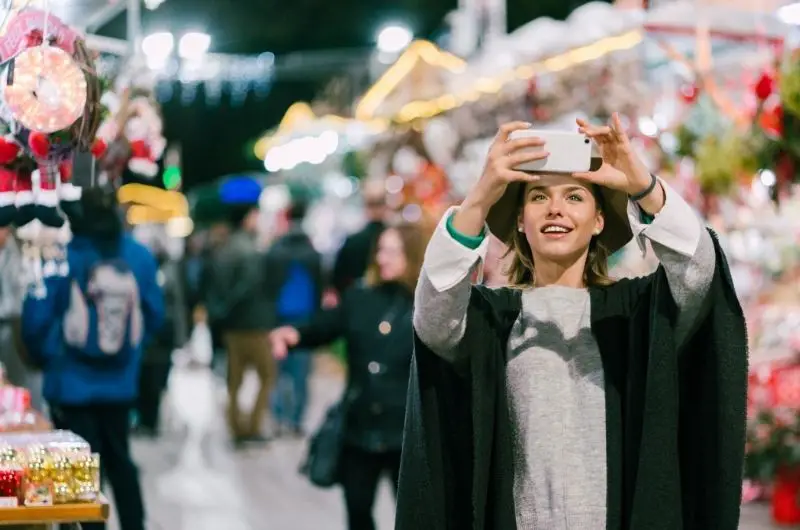 Avoid restaurants next to popular sights like landmarks, squares, and museums.
They're significantly more expensive and tourist-oriented. To save some money and get better food, go where the locals go and hit the small neighborhood cafes.
Don't buy souvenirs from street vendors near popular sights, and don't let them photograph you. They will rip you off, and you're likely to find the same thing elsewhere for half the price.
Avoid using taxis, in most European cities people use public transport and walk.
Do your homework and learn the customs of the locals; for example, Italians have dinner very late at night; in Spain, you can't get lunch from 12pm to 2pm since everyone goes home for their siesta time.
Purchase walking and boat tours from verified vendors, preferably through TripAdvisor or similar sites where you can read reviews.
Go to the smaller towns and even villages to experience the authentic spirit.
Big cities are full of tourist traps and far worse than the photos on the internet!
Best time to visit Europe on a budget
October to April are the cheapest months to visit Europe, including flights and accommodation.
Food and entrance fees stay the same, but it's significantly less crowded.
Popular sights and cities will always be busy, but the temperatures are much more pleasant.
December and April tend to be more expensive because of the holidays.
Whenever you decide to visit, always check for national holidays in the area; you don't want to be stranded in a town with no shops or restaurants open!
The tipping culture in Europe
Here's where you'll save most of your money!
Tipping is not mandatory in Europe.
Servers make a decent hourly wage, so they don't rely on tips.
If you're happy with your meal or service, tipping is a good gesture but not mandatory.
And it doesn't have to be 20% of your bill. In some countries, tipping is actually rude!
VAT refunds
All prices in Europe are with tax included.
Most stores offer tax refunds for non-EU residents.
All you have to do is search for the TAX-Free sign and make a purchase above the minimum sum; for Greece, that's 50 euros.
Then you get your invoice, show it to customs at the airport together with the purchased goods, get a stamp and send the invoice to the service to get your cash back.
The refund starts at 5%.
FAQs
Should I bring cash to Europe?
Bring cash for your first days in Europe to pay for taxis and a meal.
American credit and debit cards are accepted anywhere in Europe, so you don't have to carry a lot of cash with you.
Beware of ATM and exchange fees.
How do I start planning a trip to Europe?
Start by listing all the places you'd like to visit.
Plan where you'll arrive and from where you'll depart, and then search for affordable flights.
Then book accommodation, sights tickets and plan how you'll move from one country to another.
You can use buses, trains, ferries, and planes.
How can I save money in Europe?
Travel off-season, fall to spring, and avoid the period around major holidays.
Book flights midweek and stays outside of the city center.
Eat where locals eat, avoid fancy restaurants, and hit the mom-and-pop shops.
How much euro do I need for 2 weeks?
You need around €2,000 for a comfortable 2 week trip around Europe, including local transport, entry fees for museums, food, and accommodation.
Bottom line
Europe encapsulates so many different cultures, languages, and history in a small piece of land.
Depending on your itinerary, you can expect to spend between $2,000 and $3,000 for a comfortable 2 weeks trip.
Us citizens don't need visas and can stay a prolonged time exploring; however, flights can be costly.