You've stumbled here because you're wondering how to get out of a toxic family house, the apartment you've been sharing with an abusive-romantic partner or the apartment that you're sharing with mates who grate on your nerves.
Whatever your reason is, before you can take any step forward, the first thing to consider is how to get a place when you can't really afford anything at the moment.
Before you decide to move out, reconsidering the big change is always the first option since moving out may entirely reshape the course of your life. Often you misjudge your resilience, and in critical circumstances, it's okay for you to doubt yourself.
It might not be in your best interests to move out just because the pile of dirty dishes you washed last night was not yours. However, if circumstances are pushing you to vacate your current home immediately, then I'd suggest crashing at someone's couch until you've saved enough to rent a place of your own.
Budgeting And Cost Control
Like any other financial aim, moving out requires careful financial planning and budgeting. To move out, you need to assess how much you can spend on a different accommodation.
You need to decide the kind of space you are aiming for and then draw a budget to understand your financial situation.
To draw an appropriate housing budget, you need reasonable estimates of various monthly expenses that may arise and the funding you need to afford basic housing space.
If you're young and recently graduated, consider the student debt or any other factors (like credit card debt) that could also affect how much you can afford on your future space.
Your monthly costs estimates should include items like:
Rent cost
Cost of utilities – Basic factors such as water, electricity, and gas. Stuff you might have never before paid for!
Renters insurance
Moving costs – Unless you can get friends to help move your stuff. You might not need to buy cardboard boxes, but you'll still probably need to rent a uHaul or something to move the bigger furniture if you're bringing it along.
Cost of possible repairs – If you get a bargain deal on a place to stay, you might be looking at some fixes on your own.
Application fee – Yes, some landlords may charge this.
Pet fee – If you have a pet, there might be an additional deposit for that.
The bottom line is that moving is expensive. You might not even have money for the most basic apartment, even if that's sharing the space with others.
Perhaps it is the exorbitant costs associated with housing due to which nearly half of 18 to 29-year-olds in the United States were living with one or both of the parents in March 2020 (Pew Research Centre report).
Furthermore, you need to be realistic while establishing a budget. Instead of making grand plans, you need to first have a reasonable timeline for moving out and how much personal capital you actually have.
Then divide this timeline into daily/weekly/monthly goals. Once you have set a moving-out deadline, you have to be firm with yourself in sticking to the plan.
Things To Consider To Help You Move Out
1. Relocate 
Some cities are ridiculously expensive. While you're considering moving out, you should also consider skipping cities or even countries to find an abode that is within your pocket.
Hong Kong is the most expensive city in the world, while San Francisco is deemed the most expensive city in the US. These are the two cities where the average two-bedroom rent exceeds $3000.
If you reside in such a city at present, the better option for you would be to relocate to a place where house rent isn't so exorbitant.
Moreover, some countries also have relaxed land laws and reduced property taxes. With some research, you will likely come across geographical locations that will offer affordable room and board.
2. Get a job, or try to find one better paying than your current
 Some situations call for moving out immediately even if you don't have a job, are too young to have one, and are still dependent on your parents.
Tough times call for tough solutions. So before you start moving out, you need to:
Have a full-time job with steady hours. Ensure this job is something you're interested in and that you can continue with it for a long period of time.
Save every penny for a couple of months until you have enough to move out
A paycheck will not only be needed to pay your bills, but it may also be a requirement in getting a landlord to rent out their place to you. This is often termed "proof of income." Landlords often use this to gain assurance about your ability to pay rent on time.
3. An additional source of income 
If your full-time job is at the front desk of an organization, you should consider a night job as a barista or even as a shift in charge at night.
The possibility of night jobs is endless once you get down to it. People on freelancing platforms may be willing to pay good bucks for work such as quality content-writing, consultation, and online tutoring.
4. Become a seller 
You may realize that you've accumulated a ton of stuff that you don't use anymore. You can simply pawn these items off in a garage sale or even put them on eBay.
You may also have a hobby such as painting or sketching. In which case, you can monetize this hobby by selling your work on sites such as Etsy, Amazon, or Shopify.
5. Get a job that comes with housing
There will always be jobs out there that will come with housing. These might not be the best paying jobs, and the accommodation they offer may not be five-star.
However, you might find a job that offers you shared housing with other tenants or offers you money for doing the same. Examples of jobs that come with housing are cruise ships, peace corps, au-pair, and the military.
I know a young lady who lived on the top floor of a funeral home in a beautiful two-bed apartment as a part-time phone call attendant.
She found this reasonable accommodation by simply scouring local papers every day, to find something that fulfilled her needs. She lived there for two years before she graduated from college and went on to bigger and better pastures.
6. The best things in life are free 
Sometimes you can get some pretty amazing things for free. For example, you may come across free items when people vacate their house in a hurry and don't have the time to sell their furniture and other belongings. In such a situation, people often choose to hold a giveaway.
Places to find free furniture and other home furnishings
Craigslist/VarageSale/Letgo/Freecycle
These four apps and sites are chosen from an extensive list of sites to get goods for free.
Facebook marketplace
A great online place like Craigslist to search for things people are selling, and free things people just want to get rid of.
Free (and for sale) pages
Most neighborhoods and cities have online pages on which furniture tends to be sold for free or at a very low cost. Following such pages will give you early access to furniture that's free or nearly free.
In my city, our local utility sends out a monthly magazine with updates and company news, and the last 2-3 pages are filled with people who are selling things, giving things away for free, and even things they're looking for and willing to buy.
Yard sales and thrift stores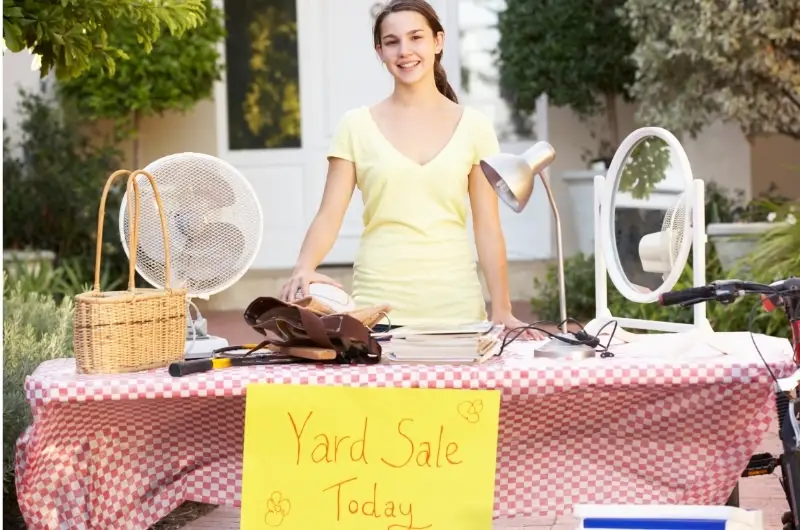 Good consideration places where you may bag really good furniture by paying peanuts for it.
Involve friends and family
Sharing your move-out plan with your friends might be in your best interest. They might be willing to swap some useful belongings of yours with something they own and will be useful at your new place.
Also, instead of hiring professional movers, you may ask friends or family to help you in the process. For example, you could borrow a truck or van for free and move your belongings in that if possible.
They'll provide physical support by helping move your stuff with you, and you can consider hiring your friends and family at a low cost or for free to get transitioned.
The art of saving money
That may look like a no-brainer to you, but saving money is an art only a few can master. The following is how you can save money and afford reasonable housing:
Avoid eating out – If you eat out eight times a month, you should probably bring that down to just two times or even skip it altogether.
The movie lover – This is the time to stop going to the theater to watch that latest movie. Switching to your laptop or television screen will be saving you money. Also, homemade popcorn is generally cheaper than the one you buy at the cinema.
Cut out expensive items from the grocery list – Processed meats and veggies can be much more expensive than the unprocessed variety. You don't need Kobe beef, expensive wine, or caviar. They need to be substituted with cheaper products or be done away with totally.
Establish a clothing budget – You don't need the top name brand clothes, if your budget is hurting. Try switching to church clothing sales or thrift stores until you have housing money in your wallet.
Smoking kills – If you're a smoker, this is the best time for you to stop smoking! Someone who smokes a pack of cigarettes a day spends about $238 a week on cigarettes, which is over $12,400 each year. 
Pack your own lunch – By packing your lunch, you will be able to save money that is being spent on high-priced office meals.
There are infinite ways to save money, and you're the ultimate judge of where you can cut down expenses. How you get there is not important. Getting there is.
Student loans
You can use student loans for most expenses related to studies. These also include on-campus housing and off-campus housing costs.
Once you've gone through the due diligence procedures and passed them, you'd be eligible for a student loan. This loan is likely to clear up a student's dilemma of not being able to afford a decent place to stay.
Student loans are used for many purposes other than housing. Often colleges will deduct an amount from the loan for school-related fees. You might also need to use some of the loan money to buy books and other college essentials like transportation.
How to save money when using a student loan to pay for housing:
Although the student loan can be used to pay for off-campus housing, it will be significantly cheaper for you to choose the dorm-life instead.
If you do not want a room-mate, you should forgo a few non-essential items like the cable tv.
Buying your own food instead of getting meals on-campus is likely to save you some money.
If you do off-campus, be very mindful of your utility bill, keep it as low as possible. It's not too hard to make sure you're using less electricity and being efficient with gas and water.
I've recommended student loans as a last resort. It might take years, in fact, ages before you might even pay back such a debt. Some people even die with a student loan still riding heavily on their shoulders (true story).
Despite the precautionary warning, student loans appear to be a popular method adopted by students to pay for room and board.
Conclusion
I'd suggest approaching a house-hunt with the same zeal as finding a job. Luckily, you exist in a time when there is an abundance of technology to create a life that's right for you.
Hard work is the key to achieving anything in life, and the same is the case for finding a suitable accommodation. Whether it's working on a cruise ship or working double jobs, all hard work should be seen as contributing to your growth as a person.
Moving out of an environment that is not healthy for you is important, and you should never let anyone tell you otherwise. Make wise decisions, and think of moving out as an opportunity rather than an ill-fated event.
Was this article helpful?