The best and safest ways to move out without money are to relocate to a low-cost area, try shared housing, look for cities that pay you to move there, pay rent to your parents or temporarily crash a friend's couch.
Moving out is always stressful and costly, whether you're 18 or 40.
On the other hand, having the comfort of spending some more money makes the whole process faster and more comfortable.
This is the main reason why many spend years in uncomfortable living situations. But if you think you need to wait years to save money before moving out, we're here to debunk the myth.
Everything is doable with the right plan and perspective; even though the housing market looks awful at times, you can still make it happen.
Read on how to approach this situation.
When should you move out?
The average of moving out of their parent's homes in the US is 19, but many move out much earlier or later. So if your situation is unsafe, uncomfortable, or given an ultimatum, you're probably looking to move out at the moment.
From a legal perspective, parental obligations, including providing housing to their children, end when they turn 18 in most US states and Europe.
At this age, most children are not very well financially prepared. Some decide to stay in with their parents and pay some rent; others share a sublet with roommates.
What about moving out later in life? Moving out of a home you share with roommates, a partner or family?
The best time to move out is when you're no longer safe and don't have the freedom and privacy you need.
It's always better to move out and seek help rather than stay in abusive households. Doing it on a budget is possible in almost all states.
The moving process cost
The national average rent for a studio apartment, the cheapest accommodation for a single person, is $1,711. However, this includes high-end cities and very affordable ones.
Grove City in Pennsylvania has the lowest rent for a studio apartment at $383, while Edinburg, Springfield, and Tulsa move around $615 to $630.
We can't neglect the fact that the moving cost includes renting a new place, processing fees, deposits, movers, or basic furnishing.
In most states, you can get a team of 2 movers for $800 for short distances or $2,500 for distances over 100 miles.
Steps to moving out without money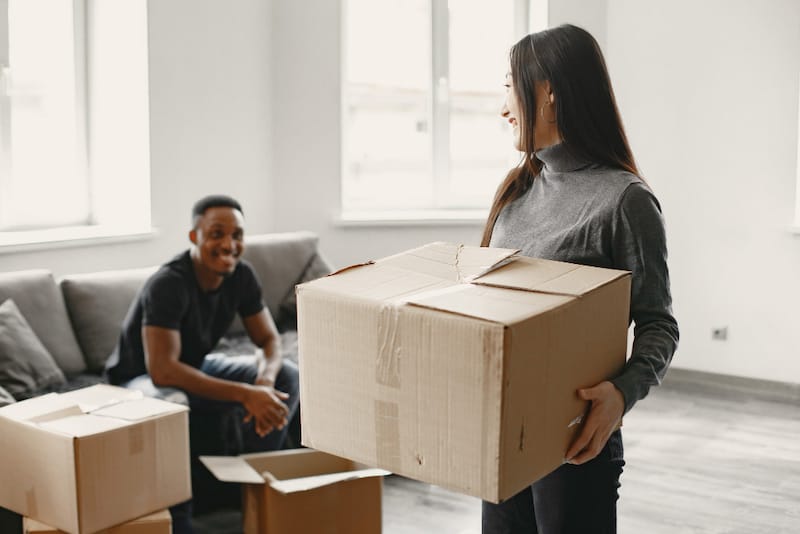 1. Revise your finances
Although you're looking to move out without spending money or having no savings, you must start by listing all the positive and negative sides of your finances.
Your credit score is the essential thing to look at. You need to build your credit score in order to be eligible for renting an apartment.
The average credit score landlords look for is 620, which is not as high as the 740 needed for mortgage approval. 
If you have a bad credit score, look for ways to repair it. If you're still building your credit score, remember that loans and credit cards are not your enemies. Instead, they can help you build a reputation as a good borrower that pays their dues on time.
The next thing you need to focus on is an emergency fund.
If you plan on moving, you need to calculate your essential expenses like rent, food, toiletries, transportation, or gas.
The emergency fund must cover the essential expenses for 3 to 6 months. 
Even if you have no savings at the moment but have a job, set aside an amount of your paycheck towards your emergency fund, and focus on that as your only savings until you build a solid amount.
2. Relocate somewhere cheaper
We briefly mentioned above how the low-cost towns are significantly cheaper for renters than the national average.
So if you're not tied to a job, family, partner, or similar, it's best to move to a low-cost town.
However, be careful with picking neighborhoods, towns, and areas, as safety doesn't always come with low rent.
Arkansas, for example, has a relatively low rent, with two cities, Conway and Sherwood, among the 10 national cheapest towns.
When it comes to living expenses, Mississippi, Kansas, and Oklahoma are the most favorable states.
3. Get paid to move
Some states across the US deal with a large population decrease and have programs to draw in more people.
If you decide to move to Oklahoma, you get to enjoy the marvelous nature and a grant of up to $10,000. Vermont offers the same amount but is divided into 2 years.
Alaska might be expensive to live in, but they provide a $1,600 grand and no income tax.
Minnesota offers free coworking spaces and $2,500 in cash to cover your moving expenses.
Kansas has the 'Choose Topeka' program that offers $15,000 to newcomers.
4. Home-sharing
Moving for $0 but willing to help someone?
The National Shared Housing  Resource Center can help you move in with someone for a discounted or no rent. These are usually homes owned by older people who need some assistance or companionship.
You'll be saving money on utilities and rent by donating some of your time.
5. Crowdfunding
People don't always forget where they came from.
Many of them have found themselves in your situation but have managed to grow over the years.
These types of people, friends, relatives, and strangers are often open to supporting a good cause via crowdfunding.
There are many ways to jump-start the campaign, whether opening a GoFundMe or sharing a Venmo or Cashapp link on your social media profiles, along with the story of why you need to move.
6. Garage sales
Get rid of clutter and make money to move by setting up a garage sale.
You can turn in the items you can't take with you or you no longer use into a couple of dollars that will go a long way when moving.
You can also sell your unnecessary things on Facebook Marketplace or Craigslist, a form of a virtual garage sale.
7. Get a job with housing
Need to move but willing to switch jobs? Some jobs come with free housing, like housekeepers, live-in nannies, building managers, hotel housekeeping, and more.
Long haul truck drivers that go on extended journeys also get a form of housing; they sleep in their cabins en-suite after work hours.
8. Go abroad
If you're open to new adventures and have the skills to work anywhere or online, consider moving abroad.
Some options are moving as an English teacher, a hotel worker, a call center agent, a tour guide, or any regular profession.
You can also look into cruise ships that depart from the US. They provide housing, have a lot of job positions, and you get to visit new places.
Luxury yachts are another interesting option. Most of them depart from France and Italy, and the captains are always on the lookout for more staff.
9. Move in with friends
We understand that some of these suggestions need a little more preparation and execution time, so they're not ideal if you're in an unsafe situation.
Consider letting your friend know of your problem and ask them to stay until you find a suitable solution.
Or if they have a place where they're not living, maybe they're willing to sublet it to you at a lower price.
FAQs
What age is the best age to move out?
The best age to move out is after the age of majority or when going to college.
In Colorado, Maryland, Alabama, and Nebraska, the age of majority is 19, while in Indiana, New York, DC, and Mississippi, the age of majority is 21.
In all other states within the US, the age of majority is 18.
I can't afford to move out of parents house, what do I do?
If you've reached the age of majority or have finished college but have a student loan and can't afford to move out of your parents' house, consider finding a solution with them.
Get a job and talk about paying them some form of rent until you save enough to move out.
It's much harder to move out today than it was 50 years ago, so if you have a good relationship, they will understand.
What states pay you to move?
Some cities across the US where you'll get paid to move are Tulsa in Oklahoma, Bentonville in Arkansas, New Haven in Connecticut,
Newton in Iowa, Lincoln and Topeka in Kansas, Bemidji in Minnesota, and North Platte in Nebraska.
Bottom line
Moving out of any place where you've lived for a while is a bittersweet feeling. Sometimes we need to relocate due to new opportunities or a better place, but the process is time, money, and energy-consuming.
Talk to your close ones about your situation; even if they cannot help directly, they might share advice or a source for affordable and safe housing.
And if you're far from the moving time but are reading this, set up an emergency fund and list all your moving options.
When was the last time you moved? And if you have kids, would you let them live in your house past the moving age?